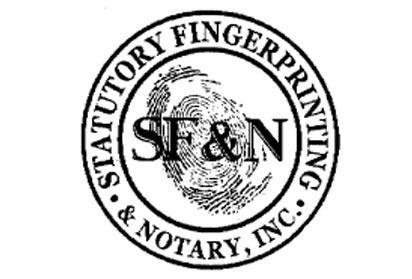 Our facility will be closed on Labor Day: Monday Sep. 6, 2021.
Statutory Fingerprinting and Notary is the leading service provider in South Florida! Our services provide quality Level 2 Live Scan electronic fingerprinting for Florida licensing and employment. In addition, we provide standard (ink card) fingerprinting, notary service, personal state background checks, and driver's license records. We provide Level 2 fingerprinting for healthcare, licensing, private schools, group homes daycare/preschools and more!
Services will remain available during the COVID-19 pandemic. Continue to check our website for changes and updates on availability! We do not fingerprint for concealed weapons, passports, or Hawaii Nursing.
LEVEL 2 FINGERPRINTS & BACKGROUND CHECK FEE (EFFECTIVE MARCH 1ST 2021):
HEALTHCARE AGENCIES - MEDICAID - FL HEALTH LICENSE: $95
NON-HEALTHCARE FL LICENSE: $68
ALL DCF FACILITIES - PRESCHOOLS - CHILDCARE: $78
ALL APD FACILITES - CDC PLUS - GROUP HOMES: $88
ALL VECHS EMPLOYEES - PRIVATE SCHOOL (K-12) EMPLOYEE/CONTRACTOR: $68
ALL VECHS VOLUNTEERS - ADOPTION - PRIVATE SCHOOL (K-12) VOLUNTEER: $58
ADDITIONAL SERVICES:
Notary: $5.00 (per stamp)
Conventional Fingerprinting Card: $30:
(LEVEL 2 BACKGROUND CHECK IS NOT INCLUDED.THIS SERVICE IS FOR APPLICANTS WHO REQUIRE FINGERPRINTS ON A HARD OR PAPER CARD)